×
BigJimny Meet and off-road driving day
---
---
×
A place for general chat about the Jimny. Please make sure you post in the correct section on the site, this way it keeps the site tidy AND ensures you get a more relevant answer.
Suppliers/Dealers or anyone selling with a commercial view in mind CANNOT post here unless responding to a specific request of a member in a "wanted" post.
Suppliers include people "breaking for spares" on a regular basis, when purchasing spares members should ask a supplier what they contribute to the running of the forum particularly if contacted by a Private Message

Suppliers or Members who have contributed to the forum can be identifed by the
logo.[/size][/color][/b]
ATB or LSD
05 Apr 2019 11:02
-
05 Apr 2019 11:07
#205564
by Talkstar
Greetings fellow Jimnyists
I am a recent owner of a 2006 JB43W Land Venture Jimny based in Finland.
Before that i used to roll around in a MMC Pajero Mini. So the Kei size is familiar to me.
I have made a list of mods I will undertake in the near future. One of them is to upgrade the standard rear diff to an LSD or an ATB from Quaife.
I kind of discovered the ATB yesterday and it seems very interesting. I try to do my research thoroughly before I decide what to buy.
Now to my question. I searched the forum but I could not find a post that answered my question to 100%.
What to have? LSD (Cusco, Kaaz, Suzuki OEM) or an ATB from Quaife or This Russian independent company that makes Quaife type ATBs for a lot of obscure models (apparently they are quite quality made) Jetready.ru or Conrad-41 on Ebay.
Anybody here that have one of them Russian ATB-LSDs??
But yeah. ATB or LSD? Thats the question.
My car is mostly going to be driven on the tarmac. Just the occasionally off-road experience.
But in the wintertime, I need to force myself through a lot of snow without getting stuck. I also enjoy the occasional drift experience. So I need a rear diff that keeps the skidlines tidy without spinning out.
I wasn't able to get anything smart for my Pajero Mini, except an overlypriced out-of stock Cusco LSD that i never found 2nd hand.
I do not understand the technical terms so much yet so hélp in choosing the right diff is greatly apreciated.
This is what Mr Russian says about his product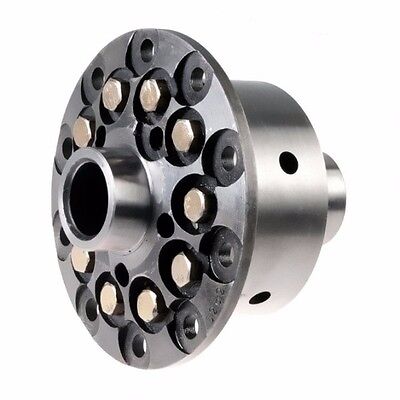 SUZUKI JIMNY SAMURAI 1984+ REAR 26-SPLINE 10-NUTS Diff Lock ATB LSD NRF CD-15P
Completed
REAR AXLE of Suzuki 1984 all years Jimny Samurai
THIS ITEM's preset: LOCKING koeff 80% & PRELOAD 10 kg/m
List of vehicle compatibility is fulfilled AS A REFERENCE ONLY! Car model and year specification on different markets may vary significantly. Prior purchase check compatibility according to listing's description. Check your VIN number or ask your dealer to know OEM diff installed.
Recommended for most AWD ALL WHEEL DRIVE applications.
LOCKING koeff 80% means: while spinning wheel does 10 revs, loaded one does only 8.
PRELOAD 10kg/m means: Resistance between wheels to over torque to activate the unit. Unit is always open while no accelerating. The more preload – the faster and tougher wheels are locking. ATB without preload available upon request.
Reduces Torque Steer, Understeer And Steering Snatch.
Automatic torque biasing (ATB) helical gear limited slip differential (LSD) is a direct replacement for your car's OE unit.
QUAIFE-type ATB helical gear limited slip differential is fully automatic and progressive in operation and unlike plate style units the Quaife ATB never locks, but seamlessly and smooth transfers power and torque away from a spinning wheel to the wheel enjoying the most traction.
In practice this significantly reduces torque steer, understeer and steering 'snatch' in front wheel drive applications compared to a plate style limited slip differential.
On the road and track this translates into reduced wheelspin and torque steer, less understeer during cornering and improved straight line acceleration. On the track the Quaife ATB cuts lap times dramatically and improves standing quarter performance.
Perfectly suited to high power front drive cars, but equally at home in rear and four wheel drive vehicles, the Quaife ATB helical gear limited slip differential is a direct replacement for the original factory 'open' unit and requires no special oils or servicing.
Successfully used in all forms of motorsport including F1, rallying, circuit racing, truck racing, rally-cross and drifting, the Quaife ATB helical gear limited slip differential has been chosen by Ford, General Motors and Daimler-Chrysler as original equipment fitment on some of the finest high performance front wheel drive passenger cars of recent years.
This kind of LSD is also calling HELICAL, Parallel, Torsen-2 type, QUAIFE-type, Automatic Torque Biasing (ATB).
---
-H56A, JB43W, NCP19, UCF31, Z50J2
-The Pajero is like a Range Rover. Equally capable in the mud but with a slightly less attractive women by your side / Tanner Faust
Last edit: 05 Apr 2019 11:07 by
Talkstar
.
Please Log in or Create an account to join the conversation.
05 Apr 2019 13:01
#205566
by Lambert
Welcome to the forum. Having driven a Jimny with a proper quaife atb in the back I can honestly say it is the best thing in the world. I am currently saving for my own one.
---
Dreadnaught (black 2011)

Please Log in or Create an account to join the conversation.
05 Apr 2019 15:49
#205569
by sniper
My 05' VVT is firstly a road car and the Quaife ATB is made for this, it transforms the way power reaches the road. You have to drive it to understand, I've tried to explain it's impact and failed. I have driven ATB's in four cars now and they are great in a tarmac tool of any type.
Off road it is very effective too, I do some pretty rough lanes on occasion and people comment on the cars ability.
They are a different tool to a locker and need to be looked at that way. If your mud plugging on off road courses or constantly driving really tough terrain (lifting wheels), an air locker is the way to go...
The ATB is fit and forget with a lifetime warranty, no special fluids, no rebuilds, no secondary air to fail.
It does have some negatives, even a Jimny can now induce a power slide in the wet........The line is easy to find and once you've spent a day or so playing about, its also predictable.
T junctions turning right uphill are also entertaining if the road has a lot of camber, it tends to induce a slide as the axle crowns the camber.
Drifting in snow is a ball, especially uphill through other cars that failed the climb..... only bumper high drifts can stop me.
So, without doubt the best money I have spent on my car and I would recommend for your brief without hesitation.
sniper
Please Log in or Create an account to join the conversation.
05 Apr 2019 16:05
#205570
by Talkstar
Cool cool cool!!
ATB by Quaife it is then!!
I'm not even gonna bother with the Russians then, even their product are half the amount of money.
Thank you sniper... Now I'm looking forward to our Finnish winter again!
Yeah. I kind of understood that I don't need or want a full locker because I don't going to need it.
But drifting a car with LSD I know how that feels. So I were curious about the ATB because I've never heard of that before. Or had no idea how it works. But as I understand it now. An ATB is more like an open diff without load and locks more as you applies power or pushes your car. That's interesting.
Thanks all!
---
-H56A, JB43W, NCP19, UCF31, Z50J2
-The Pajero is like a Range Rover. Equally capable in the mud but with a slightly less attractive women by your side / Tanner Faust
Please Log in or Create an account to join the conversation.